Dog friendly
The riverside paths, marshes, woodlands and even the waterways of the Broads National Park offer a fantastic playground for you and your four-legged friend to explore. We're very dog-friendly here and many self-catering properties and holiday boats welcome dogs, as do many visitor attractions, pubs and eating venues.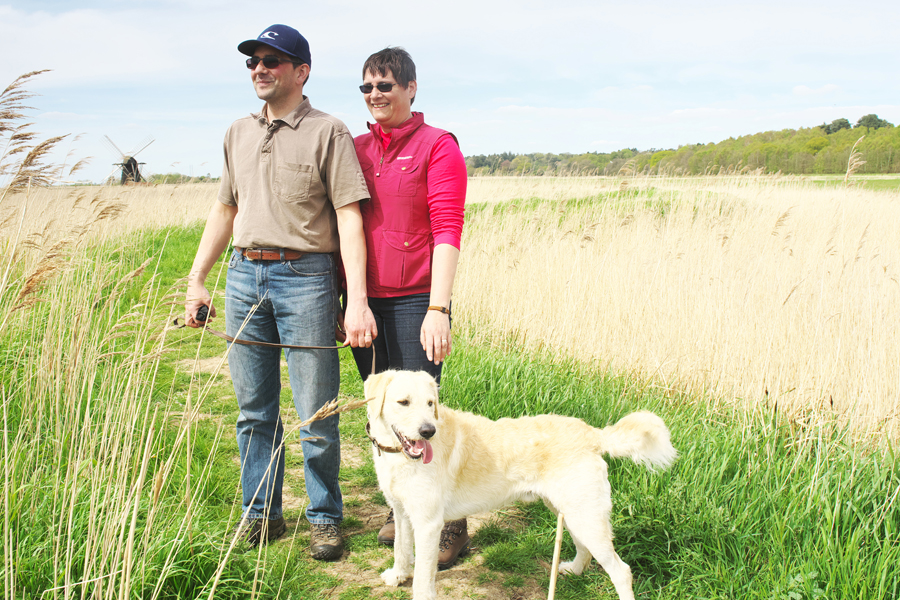 There are over 190 miles (300km) of footpaths just waiting to be explored, with circular walks from many villages and moorings. Several long-distance routes run through the area – the Wherryman's Way, Angles Way and Weavers' Way. There's also the Norfolk Coast Path, taking in Horsey and Winterton, and the first part of the Three Rivers Way walking and cycling route, between Hoveton and Horning.
Two outstanding historical sites in the Broads are happy to welcome dogs. Burgh Castle, overlooking Breydon Water where the rivers Yare and Waveney meet, is the remains of a third-century Roman fort. It's a lovely place for a walk as well as somewhere to absorb the history of the Broads and to enjoy one of the best views in the national park. Please keep dogs on a lead along the boardwalk so they are not tempted to jump into the reedbeds, where birds such as the rare marsh harrier nest between March and July. On the River Bure, and near the rivers Ant and Thurne too, you'll find the ruins of St Benet's Abbey. There are also lovely walks to the abbey from the village of Ludham and from Ludham Bridge.
Things to remember
We want the Broads to be enjoyed by everyone whether you're a dog-lover or not, so here are a few things worth remembering if you plan to visit with your four-legged friend:
Dogs are allowed on footpaths, bridleways and byways (public rights of way) under effective control
On areas known as open access land, dogs must be kept on a short lead between 1 March and 31 July to help protect ground-nesting birds, and all year round near farm animals
On land next to the England Coast Path dogs must be kept under close control
Routes called permissive paths may not allow dogs
Many nature reserves don't allow dogs
Always clear up after dogs
Check access for dogs with places you plan to visit
Keep dogs close by, under control and in sight
Keep dogs on leads if you can't rely on their obedience
Don't let dogs wander near people, wildlife or livestock, or disturb them
Never enter the water to rescue a pet – you are putting your own life at risk (read more on safety near the water)
For places to visit try www.thebarkingbugle.co.uk
If you want more information read The Countryside Code. If you have a problem, contact the local authority or the Kennel Club – 01296 318540 or www.thekennelclub.org.uk