The history of the Broads
The Broads is a region with a rich and diverse culture. From historic landmarks with fascinating pasts, to the many arts and crafts today, The Broads continues to inspire.
Until the early 1950s, we assumed that the Norfolk and Suffolk Broads were lakes of natural origin, left after a Great Roman Estuary in the lower valleys of the Rivers Bure, Yare and Waveney silted up.
However, important research by Dr. Joyce Lambert and Professor C.T. Smith discovered that the Broads were in fact man-made and were the flooded remains of medieval peat diggings. This digging roughly started in the 12th century and would continue over centuries, providing fuel for heating and cooking.
Historical records show that the pits gradually began to fill with water, making the peat more difficult to extract. These diggings were abandoned by the 14th century and subsequently flooded, creating a wetland that was rich in wildlife.
The Broads have been a popular boating holiday destination since the late 19th century, where sailing holidays and eventually trips aboard motor cruisers became increasingly fashionable. This led to the birth of the Broads boating industry, and many of the boatyards, facilities and attractions that visitors still enjoy today.
Historic sites to visit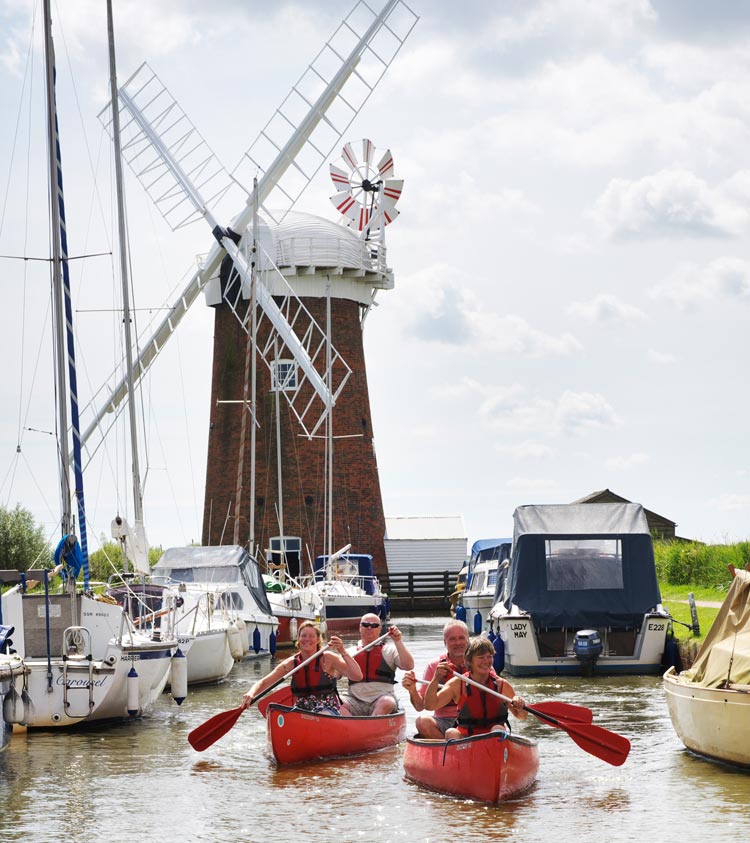 Mills
One of the defining features of the Broads is the many windpumps and mills you'll see dotted around the landscape. Once used to grind corn or flour, or to provide drainage, many of these have been restored to become popular visitor attractions.
There's over sixty still standing (in various states of repair) but we have listed some of the most iconic mills on our website including Thurne Mill, Horsey Windpump, Turf Fen Mill and Hardley Mill. Many of these have associated museums or visitor centres on-site if you'd like to learn more about the story behind each one.
Churches
Norfolk and Suffolk are counties rich in ancient churches. These buildings are a vital part of the Broads' landscape, providing visible evidence of Christian heritage that stretches back to the 7th century.
Churches here often mark the landward edge of marshes and stand high above green pastures and still waters. They are usually the oldest buildings in city, towns and villages, providing focal points for the local community and welcoming visitors of all faiths too.
One of the most unique and popular churches to visit is St Helen's Church at Ranworth. If you have a head for heights you can climb to the top of the tower here to enjoy breathtaking views over the surrounding landscape and get a great vantage point to look over Ranworth and Malthouse Broads
St Benet's Abbey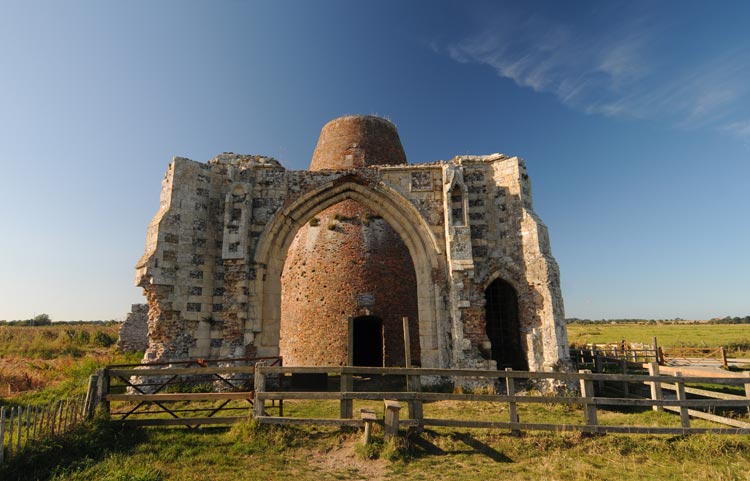 St Benet's Abbey was established around 1,000 years ago with the support of King Canute. Once an impressive site with a substantial gatehouse, church and cloisters rising out of the Broads, it is now a ruin and part hidden inside a later windmill.
Owned by the Norfolk Archaeological Trust this impressive ruin evokes over 1,000 years of history. A historic monument and living church, it is still used as a place of pilgrimage and worship today by local communities, and annually during a service conducted by Bishop of Norwich, who retains the role of Abbot of St Benet's. Whether arriving by boat or on foot, St Benet's Abbey offers visitors the opportunity to experience the Broads as the monks, pilgrims and traders of old would have done.