Come aboard and get boating on the Broads
Boating on the Broads is a truly memorable experience. It's a place where timeless beauty meets unkempt nature. Winding, interconnecting waterways move through whispering reed marshes, open fenlands and shrubby heaths. Britain's waterland national park is also the third largest inland waterway, with miles of lock-free waters to cruise.
Discover a timeless nature wonderland, featuring some of Britain's rarest plants and wildlife, for a perfect getaway from the hustle and bustle of everyday life. Cruise, sail or row past the many reed marshes, meadows and woodlands at a leisurely pace, while relaxing on deck or casting a rod into the waters. And with no locks to bother with, the Broads couldn't be simpler to tour.
For full information about boating including tips on navigating, safety advice, mooring locations and more please visit the Broads Authority website. If you require any advice or need assistance during your visit please remember to call Broads Control on 01603 756056 to receive up-to-date and friendly advice.
If you are new to boating we recommend you read our guidance for first-time boaters to keep everyone safe and make the most of your trip.
A holiday to remember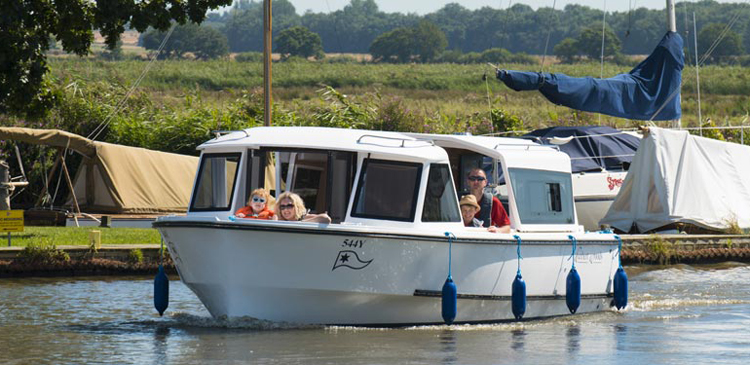 Breathtaking landscapes and tranquil waters, teeming with unique wildlife, has made the Broads National Park a favourite location for holidaymakers. The rich boating heritage of these historic waterways started in the 19th century, with pleasure boating becoming a popular pastime with both locals and tourists - that tradition continues to this day!
Explore the many lakes, rivers and canals maybe mooring at one the idyllic market towns, villages or charming riverside pubs.
Beautifully-kept, comfortable and sturdy motor cruisers and sailing boats are available to hire for wonderful holidays in the Broads National Park.
Discover boating holidays on the Broads.
Day boat hire and boat trips
Hiring a day boat to cruise yourself or taking a boat trip is one of the best ways to see everything the Broads has to offer. Driving your own cruiser will allow you to experience the freedom of the water and explore at your own pace, perhaps enticing you to come back for a longer holiday.
Boat trips give you a chance to fully relax, spot and take pictures of some of the region's rarest animals and plants and tour the waters. With everything taken care of on deck, you can can sit back and capture the spirit of the Broads as you float on by.
Enjoy the enchanting landscapes while learning about the origins of the Broads, as you slowly drift through its fascinating maze of waterways. With such a diverse, extensive network of trips in operation, whether it's history or nature that you're interested in, you'll find much to fascinate you.
The Broads Authority themselves offer a handful of boating tours too. With each trip starting from one of three visitor hubs, you'll see for yourself what brings people back to the Broads time after time. Take a wildlife water trail along the hidden dykes behind the How Hill Nature Reserve. Make your way through the undisturbed upper reaches of the river Bure in the Edwardian styled 'Liana', or stay close to the city with a trip round the Great Broad at Whitlingham, just on the outskirts of Norwich.
Discover day boat hire and boat trips on the Broads in our things to do listings, or if you fancy working up a sweat why not check out our canoeing, kayaking and paddleboarding listings?