Day trip adventures
Whether you want to head out for a day of fun, relaxation or discovery there are lots of great locations in the Broads. With organised attractions like Wroxham Barns, beautiful countryside, market towns like Bungay and also plenty of coastline nearby (if you want to get your feet wet) you really are spoilt for choice when it comes to exploring!
What's the attraction?
Come rain or shine, an organised attraction is a sure fire way to guarantee some fun for all of the family. Head to Great Yarmouth or Norwich to catch a live show, or if you need to entertain the kids why not try out one of the many indoor play and activity centres in the region? If the weather's good, a theme park or zoo could be just the ticket. Take in the exotic wildlife at Thrigby Hall or explore the mysterious woodland at Bewilderwood.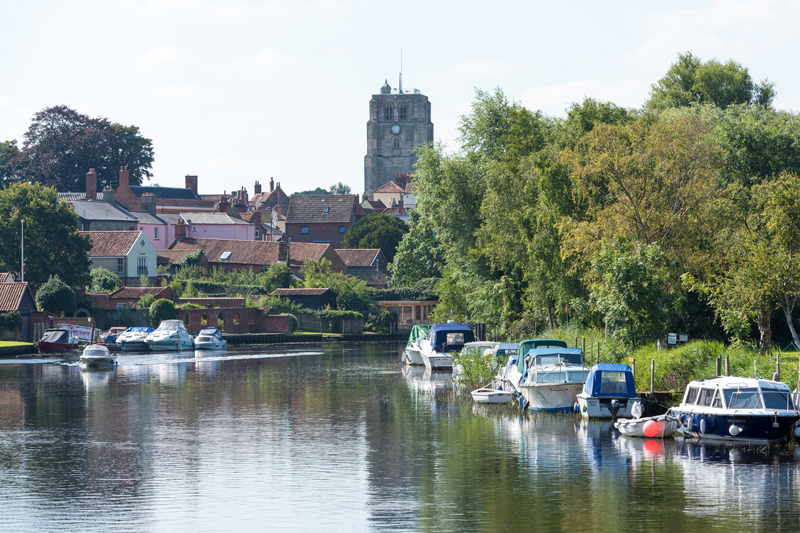 Day tripping
The Broads is famous for its abundance of scenic day trip destinations just waiting to be explored. With nature reserves, gardens of stately homes, quaint towns and villages and a short (but beautiful) stretch of coastline there's definitely plenty of choice.
Inland there are beauty spots such as Hickling Broad, Ranworth Broad, How Hill and Carlton Marshes to name just a few. You're guaranteed to see some amazing wildlife including some national favourites and maybe some exotic migrants too! Pay a visit to one of the idyllic East Anglian towns or villages en route to refuel and indulge in a spot of shopping, some of our favourites are Beccles, Bungay, Wroxham and the fine city of Norwich itself.
It's not all in North Norfolk! If you head seawards there are also some great coastal areas to explore including the dunes at Winterton-on-Sea, the classic ports of Great Yarmouth and Lowestoft and also the beach at Horsey which is home to thousands of grey seals at certain times during the year (please abide by the Friends of Horsey Seals rules if visiting).
Scenic settlements
Norwich
The Broads is the only national park in England that is home to a vibrant, modern city. With waterways running right through, a holiday here wouldn't be complete without a visit to Norwich.
If you want to enjoy a day shopping, eating out, or visiting its many museums and historical sites, having Norwich on your doorstep means you don't have to choose between the tranquillity of a boating holiday and the buzz of a city break.
Wroxham and Hoveton
Sometimes referred to as the Capital of the Broads, the interlinked villages of Wroxham and Hoveton are the perfect base from which to explore the area. The main streets are overflowing with hotels, pubs, restaurants and shops – many of which are owned by the local retailers Roys of Wroxham, also known as the world's largest village store!
From Wroxham, it's simple to rent a boat for the day. Set off early for a gentle cruise to the delightful village of Coltishall - with its easily accessible riverside pubs - or explore Wroxham Broad and the River Bure. It's the ideal way for day trippers to get a taste of life on the Broads.
Horning
A quintessential Broads village with waterside pubs, a village green, crafts shops and delicatessens, restaurants and quaint tea-rooms, Horning is also home to a biannual boat show and opposite the Bure Marshes National Nature Reserve. Spend a day soaking up the sleepy atmosphere, take in lunch and a guided boat tour or visit the picturesque church of St Benedict. The annual Three Rivers Race in June is a staple in the Broads calendar. It is run by Horning Sailing Club which also hires out rowing boats for those wanting a more gentle experience.
How Hill
Known as the microcosm of the Broads, the picnic meadow at How Hill Nature Reserve looks down on a breathtaking vista of mills, sailing yachts serenely tacking the river and even an old marshman's cottage, Toad Hole, where you can experience life on the Broads a century ago. Combine your visit with a trip on the Electric Eel wildlife boat.
Ranworth
Ranworth is home to the so-called 'Cathedral of the Broads', stunning St Helen's Church which was completed in 1450 and where you can climb 89 steps to a breathtaking view for miles at the top of the tower. You can also take a leisurely boardwalk stroll spotting rare creatures in woodland and reedbeds ending up at Norfolk Wildlife Trust's floating wildlife centre where you can learn about what you've just seen.
Beccles and Bungay
Beccles is a charming, thriving market town in the heart of the Waveney valley and steeped in history. You can moor up at the quayside, take a refreshing dip at Beccles Lido or an easy walk into the town centre with its independent shops, pubs and cafes. The nearby market town of Bungay is great for walking, good shopping and food and historic buildings. Legend has it that it was also home to the fearsome Black Shuck.
Somerleyton
Somerleyton, with its stately home, leafy lanes and thatched fairy tale cottages, seems to have been suspended in a past era. Take a picnic on the green or a short walk to the wonderful Herringfleet Mill.
Whether you're looking for peaceful waterways, idyllic countryside, bustling towns, a thrilling theme park, charming coastline or even combining your national park stay with a city break, the Broads has something for you. But why choose? The best thing about the Broads is the sheer variety of wonderful places you can go and exciting things to do while you're here.
Read more about attractions and the nearby coast or check out our days out listings and attractions listings.