Become a member of Visit the Broads
Visit the Broads is the official destination management organisation (DMO) for the Broads National Park. We are a membership organisation which works to benefit your business and showcase the vast tourism and leisure opportunities in the area.
Our Mission Statement:
Visit the Broads provides a single voice to promote and support sustainable tourism and leisure businesses in and around the Broads National Park.
We work collaboratively with the Broads Authority, to grow responsible tourism and leisure for the benefit of our member businesses and visitors.
To join please download and complete the form below and email it to us at membership@visitthebroads.co.uk.
Benefits of membership
Premium website listing - 12 months listing on visitthebroads.co.uk, the official visitor website for the Broads National Park, with over 700,000 page views and around 300,000 visitors annually.
New for 2022/23 membership - 12 months listing on the official visitor app for Visit The Broads.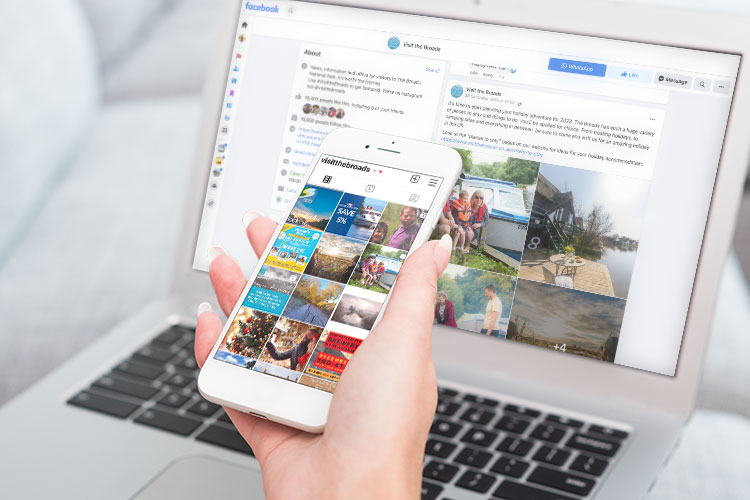 Featured on social media - With an audience of over 18,500, we like and share our members posts on our Facebook and Instagram pages wherever possible.
Visitor Newsletter - Feature in one of 12 monthly visitor newsletters year, emailed to over 4500 subscribers each month. (see the newsletter archives here).
The Broadcaster - Dedicated 8 page section within The Broadcaster with each of our members mentioned by name – issued annually with 95,000 copies printed and distributed.
Paid Social Media - We have committed to run 7 x targeted 28 day campaigns with Local IQ throughout 2023. Each campaign will comprise 120,000 display impressions across their network. Audiences and demographics will vary according to the season.
Member Events – Submit your event to be included in the "what's on" section on both our website and app.
Promotional Competitions – Competitions are a great way to raise the profile of your business, Visit the Broads runs regular competitions through our newsletters and social media channels.
Third-Party Marketing – We work with third party organisations such as Visit Britain, Visit East of England, The Broads Authority and National Parks UK. This gives us the opportunity to promote the area and our members businesses outside of the region.
Press & PR – As member you will be notified of the latest media requests, have opportunities host press trips, submit articles or provide quotes for news stories.
Photo Gallery – Access to a bank of lifestyle photographs and images of the Broads, commissioned by Visit the Broads which are available for use by all members.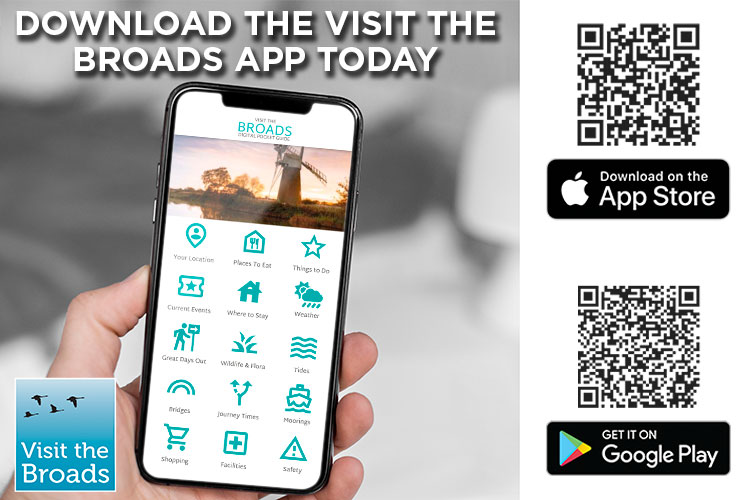 Monthly Members Newsletter – Latest industry news and information on everything we are working on at Visit the Broads.
Market Research & Industry insights – Access to up-to-date market research and analysis to help inform your business decision making. For practical tips, legal obligations and local support to help your tourism business to grow. View the Visit Britain Advice Hub.
Member Logo – Use of Visit the Broads logo on your website and on marketing collateral. By using our logos customers will recognise that you offer a quality product or service.
Networking – We hold two members' meetings each year. These are a great opportunity to hear some inspiring speakers and share ideas and information with other visit the Broads members.
Exclusive Workshops – We offer workshops and events for members in conjunction with our corporate partners.
Discounted Services – Get improved purchasing terms from our corporate trade partnership programmes.
Support Love the Broads – Help to protect the Broads through this registered charity and improve your corporate social responsibility rating by demonstrating a positive impact on the Broads. More information.
All of this from only £125 + VAT per year!
Membership Fees
Annual Membership runs from 01 October to 30 September and will renew automatically each year. Payment is by direct debit and you can cancel at any time.
| | |
| --- | --- |
| Annual turnover of business | Membership subscription costs* |
| Under £100,000 & not-for-profit organisations | £125 + VAT = £150 |
| Local & District Councils | £150 + VAT = £180 |
| £100,000-£500,000 | £200 + VAT = £240 |
| Over £500,000 | £300 + VAT = £360 |
*Businesses with two or more listings on visitthebroads.co.uk will automatically pay the highest rate of membership.
By joining Visit the Broads you are pledging to 'offer a high-quality experience for all customers which exceeds their expectations, provides excellent value for money and encourages them to return for more'.
You are also demonstrating your support for Responsible Tourism as Visit the Broads subscribes to following the Sustainable Tourism Strategy to promote the National Park to visitors to ensure its long-term future.
Useful Links
Contact
If you are interested in becoming a member or have any questions, please contact Michele Perry at membership@visitthebroads.co.uk.
Member service providers