Catch the wind in your sails
Exhilarating and affordable, sailing on the Broads has been a traditional pastime since the turn of the century. Explore the many unique landscapes and while completely immersed in nature, you're never too far away from civilisation. Take in the surrounding peace and open space on your yacht. At dusk, beautiful sunsets shimmer over the waters, creating mystical glows and mesmerising colour palettes for you to appreciate on deck before enjoying a supper under a sky full of stars.
Sailing holidays
There are a number of vessel choices when it comes to going on a sailing holiday including cabin yachts, half-decker style boats or even wherries! For those who want to stay on deck for the whole holiday, a cabin yacht is essential. Featuring home comforts, living space and cooking appliances, these deluxe vessels ensure you have a comfortable ride. Although not as luxurious, half-deckers can really enhance your Broads experience, getting you as close to nature as possible. Finally, wherries are large, impressive boats and some of them (WYC and Wherry Trust owned) can be chartered during the main season and accommodate up to 12 passengers at a time on a self-catering basis, with full use of a galley kitchen and toilet included. Read the Norfolk wherries section below for further information.
Skilled boat hand or complete novice, a sailing trip on the Broads with your friends or family is sure to be a memorable experience. Whether you take on the waters for a spot of relaxation, a feeling of freedom or a maybe just a sense of achievement, a sailing trip here remains a holiday to be enjoyed by many for years to come.
Sailing lessons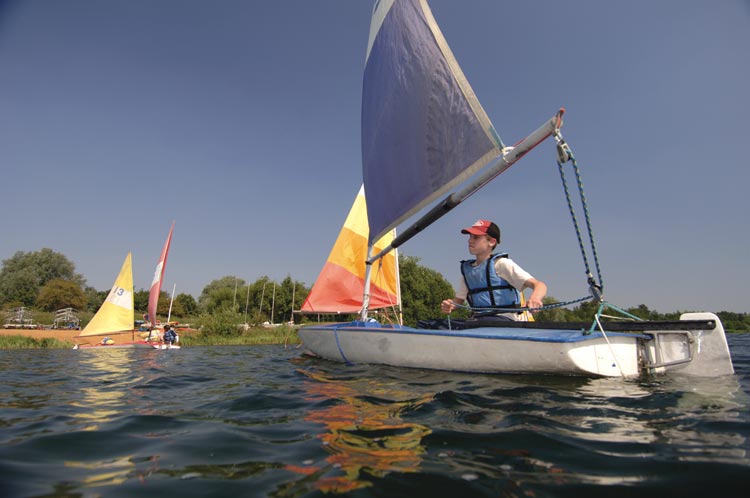 You need not fret if you don't know your tacking from your jibing, the Broads National Park is blessed with an abundance of renowned yacht clubs and schools, making it the perfect place to get a taste of this classic sport. A range of RYA accredited and non RYA courses operate from a variety of different locations across the Broads, ensuring there are lessons suitable for all abilities.
Famous Norfolk wherries
Wherries are ingrained into Broads culture and truly are a pleasure to behold as they come meandering down-river, their grand size and unmistakable tall sail a commanding presence on the water. They can be traced back to the early 17th century where they were used for transporting passengers and cargo, although over the years many different types of wherry have been in operation, including trading wherries, pleasure wherries and elegant wherry yachts.
Today, there are only eight Norfolk wherries in operation, comprised of some privately owned vessels with the remaining fleet in ownership of Wherry Maud Trust, Norfolk Wherry Trust and Wherry Yacht Charter,
Over the summer season there are lots of opportunities to get up close and personal with these magnificent vessels, including viewing sessions whilst moored up, wherry sailing taster sessions and even private charters! Make sure to keep an eye on our event listings or visit the Wherry Trust websites (above) to see what opportunities are coming up.
You can find more information on the remaining wherries below:
Albion - Norfolk Wherry Trust owned trading wherry
Maud - Wherry Maud Trust owned trading wherry
Solace - Privately owned pleasure wherry
Ardea -WYC owned pleasure wherry
Hathor - WYC owned pleasure wherry
Norada - WYC owned wherry yacht
Olive - WYC owned wherry yacht
White Moth - WYC owned wherry yacht