Now is the perfect time to book yourself a sneaky, out of season break!
As summer turns to Autumn and life begins to quieten down on the waterways of the Suffolk and Norfolk Broads, now is the perfect time to book yourself a sneaky, out of season break.
Whether you're looking for a romantic weekend hideaway or a few days with friends enjoying the great outdoors, a cosy B&B could be just the thing.
Staying in a Bed and Breakfast property offers all the charm and intimacy of a home from home, with someone else doing all the work. Start each day with a fabulous breakfast and get all the insider knowledge from your hosts on the best things to see and do in the area.
Here are our top suggestions for the best B&B breaks in the Broads National Park, all bringing their own unique charm.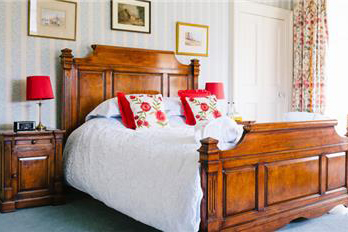 Soak up the beauty and atmosphere of Hoveton Hall. This fine Regency Hall was built between 1809-1812 and has been home to the Buxton family since 1946. Guests can enjoy a touch of elegance in the luxury accommodation while getting to know this lovely part of the Broads.
Hoveton Hall Estate covers 620 acres of parkland and gardens for visitors to explore and is surrounded by beautiful countryside, farmland and winding lanes making it the perfect place to unwind. If you're looking to explore a little further afield, Hoveton Hall is only a few minutes from the villages of Hoveton and Wroxham, otherwise known as the capital of the Broads. Full of places to eat and shop, an abundance of day boats to hire and river trips to get you out on to the water, there's plenty to keep you occupied.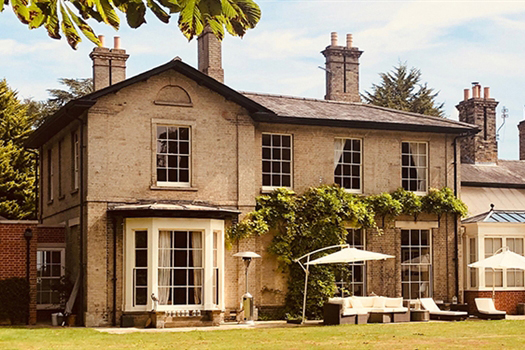 This gorgeous Georgian house is set in beautiful grounds overlooking the Waveney Valley. A range of boutique accommodation offers you peace and tranquillity. Choose from the luxury suite with its king-sized bed or your own secluded shepherds hut and private wood-fired hot tub.
Somerleyton Meadows is only a short distance from the tip of Southern Broads and the historic market town of Beccles. Beccles is well known for its fascinating landmarks including the church tower, which at 97 feet tall offers spectacular views of the town and the Waveney Valley. Beccles has a wide range of cafés and restaurants serving excellent food. Don't miss OakFired Award Winning Neapolitan pizza restaurant, one of only three in the UK accredited by the Azzociazione Verace Pizza Napoletana (AVPN) Naples, to serve True Neapolitan Pizza.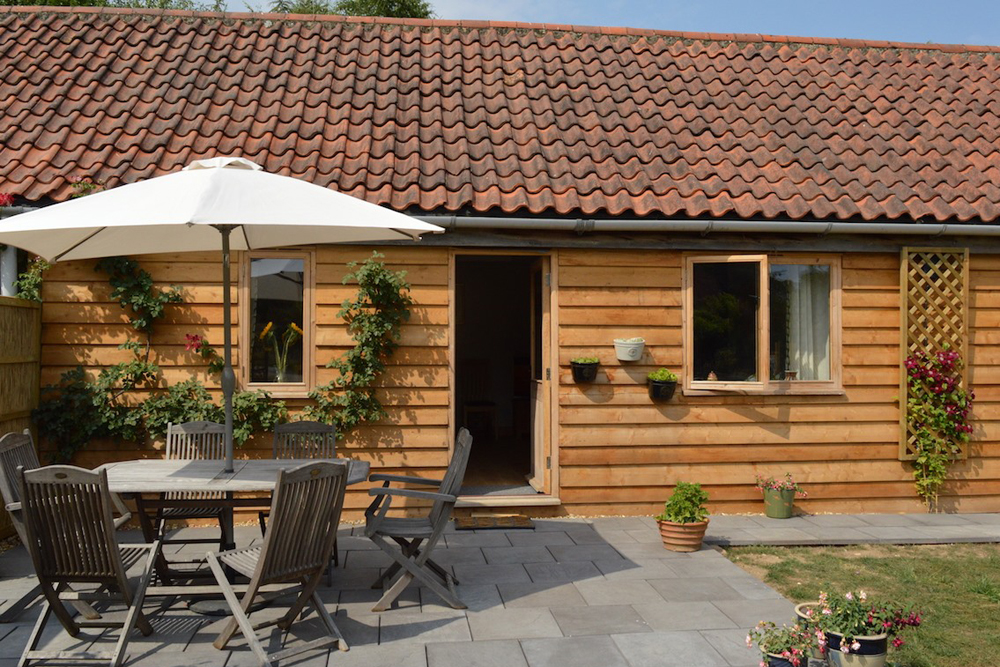 Set in 3 acres of beautiful gardens with a large pond and surrounding woodland, Cotenham Barn offers a relaxing, natural environment and the perfect base for nature lovers and outdoor enthusiasts.
There is a footpath leading across fields and country lanes to Ranworth. NWT Ranworth Broad is three hectares of wet grassland, alder carr and scrub with plenty to do for naturalists all year round. 20 minutes away you'll find the beautiful beach at Winterton. Winterton Dunes Nature reserve is a birdwatchers delight and a haven for wildlife with tern and seal colonies in residence.
There's a variety of accommodation on offer at Cottenham Barn, perfect for couples and larger groups. Choose from one of the recently converted barns or the stay in the Nook, where other than the occasional walker, your only companions are likely to be ducks, moorhen, rabbits and deer.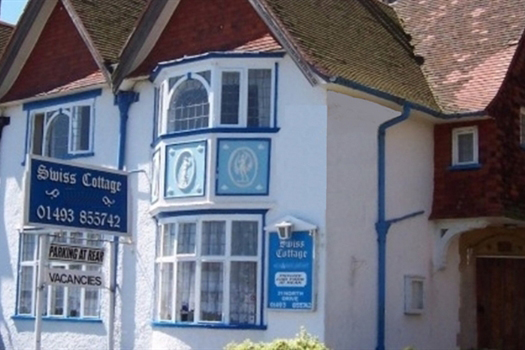 Experience all the quirkiness and charm of a traditional British seaside holiday in this Edwardian Guest House. Sitting on the quiet North Promenade, Swiss Cottage enjoys panoramic views across the Venetian waterways park towards the sea at Great Yarmouth.
Here you have the best of both worlds, everything you would expect from one of the UK's most popular seaside resorts; Great Yarmouth's famous golden mile which runs between two fun-packed piers and 15 miles of stunning sandy beaches, and easy access Broads National Park.
The accommodation at Swiss Cottage is a mix of old and new, with period features and modern facilities.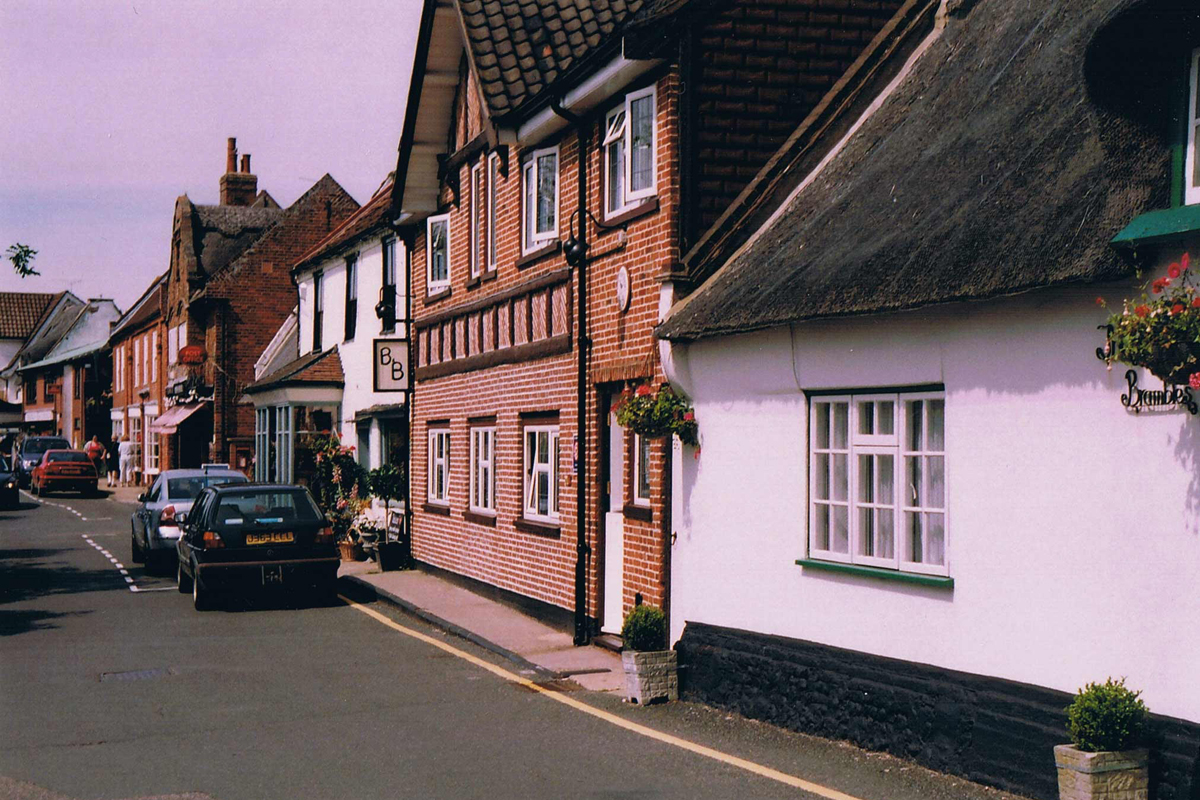 Nestled in the heart of one of the Broads prettiest villages at Horning, The Moorhen Bed & Breakfast boast an enviable location a few feet from the river Bure. Here you can immerse yourself in Broadland life. Get out on the water in a canoe or day boat or explore the winding country lanes on two wheels. Bikes can be hired from Broadland Cycle Hire, who will deliver them straight to your door.
Just 5 minutes away, the twin villages of Wroxham and Hoveton sit either side of the meandering River Bure. Together known as the capital of the Broads, this community is the heart and hub of boating on the Norfolk Broads.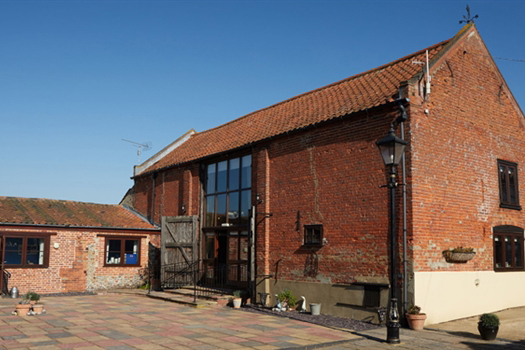 Experience a stay on a proper working farm, covering 360 acres of grazing marshes and arable land. The traditional Norfolk Farmhouse Breakfasts are known far and wide and made using locally sourced ingredients.
Dairy Barns has a range of luxury en-suite rooms and self-catering accommodation for you to choose from. They are perfectly located between the Broads at Hickling with its glorious waterways and Nature Reserve and Sea-Palling beach. Known for its safe waters calmed by the man-made coastal defence reefs, Sea-Palling is perfect for paddling of any description. A few miles along the coast you'll find Horsey Windpump. Climb to the top and take in the beautiful views of the Broadland countryside.
Part of Waveney River Centre in the Southern Broads and overlooking SWT Carlton Marshes Nature Reserve, the Waveney Inn has 7 nautically themed rooms with huge king sized beds and their own en-suite shower room. After breakfast, jump on board the free ferry service that runs daily across the river to Carlton Marshes, where you will discover over 100 acres of beautiful Suffolk grazing marsh, fens & peat pools to explore via waymarked trails, along with a brand-new visitor centre. If you want to get out on the water by yourself and explore a little further, canoes, kayaks and day boats can be hired for the day or half day. Once back at base, the outdoor decking area offers a great place to sit and unwind with stunning views over the marshes and marina.
Discover lots of other great places to stay when you Visit the Broads.