Although it's still cold outside, finally the end of winter is in sight. As the days get longer and the light returns, the signs of new life are everywhere; from the buds and blossom on the trees through to the raucous dawn chorus, it's the perfect time to get out amongst nature and watch spring unfold. Here's our guide to some of the wildlife you can see in the National Park during April and May.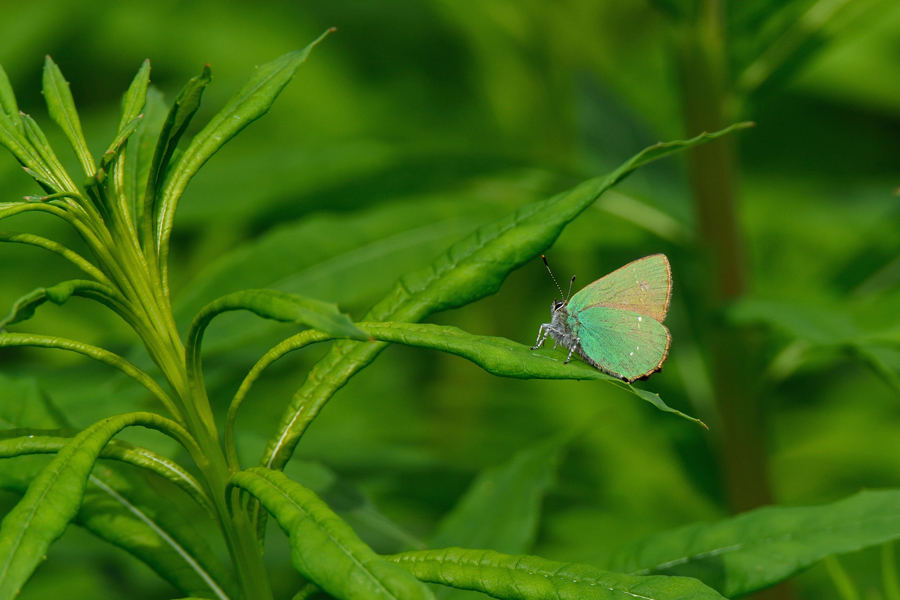 Explore on foot
Taking a slow walk is the best way to get out, spot nature and to see spring unfolding. See our walks with downloadable route maps on the AllTrails website.
Green Hairstreak butterfly
Meet the most widespread of the hairstreak family, a striking green butterfly who is often one of the first of the species to emerge in the spring. Look out for them in areas with the coconut-scented gorse flower which is one of their favourite sources of nectar. The hairstreak is particularly remarkable thanks to its dazzling iridescent wings, an effect produced by the diffraction of light on a lattice-like structure found within the wing scales. This makes them well camouflaged to predators when stationary.
Where to see: There are serval amazing Norfolk Wildlife Trust nature reserves which are just perfect for spotting butterflies. Some of the very best sites include: Alderfen Broad, Barton Broad, Cockshoot Broad, Hickling Broad , Ranworth Broad, and Upton Broad and Marshes. The RSPB's reserve at Strumpshaw Fen is great for butterfly spotting.

Other butterflies and insects to see in April include the Peacock and Orange tip butterflies, and the Large red damselfly (see our guide to dragonflies and damselflies (PDF).
Eurasian Bittern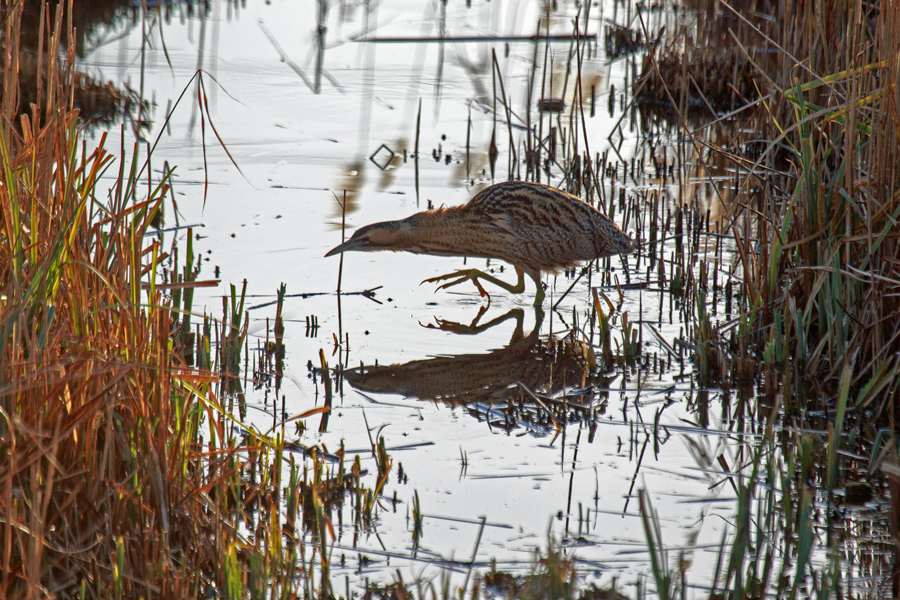 That rare Broads National Park favourite is one to listen out for this April. The sonorous boom of the bittern can be heard travelling through the reed beds at this time of year. You're far more likely to hear one than see one though as their preferred method of predator avoidance is to stay stock still and blend in with the reedbeds.
Where to see: To see a bittern you'll need to be close to the water and ideally near thick dense reedbeds. For the best chance to see one or at very least hear one head over to Hickling Broad or Carlton Marshes and stay very still.

A rare sight of a bittern captured on video, at Suffolk Wildlife Trust.
Oak Tree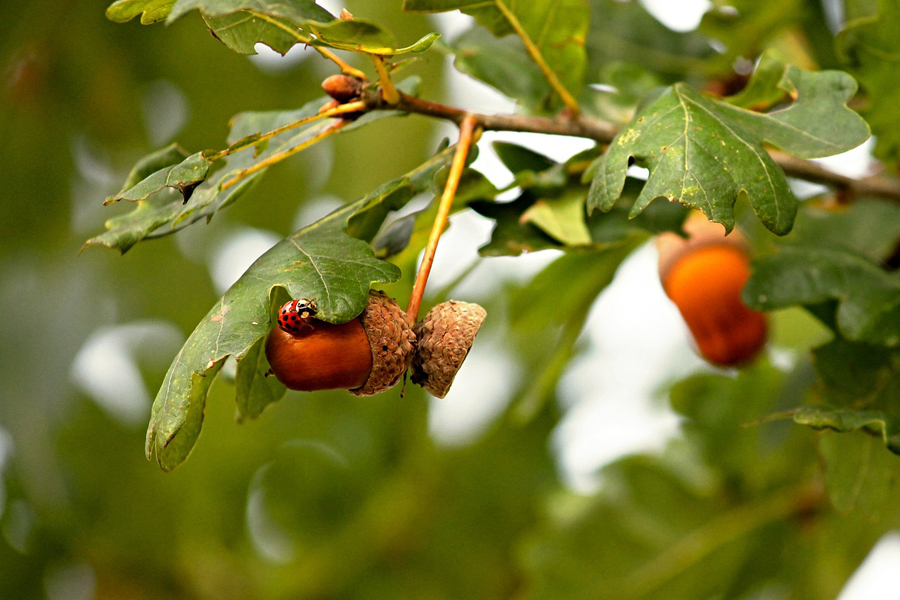 In April, oak trees begin to transform once more with their pale green leaves opening to slowly mature into the dark rich green we all associate them with. Interesting fact about oak trees… They spend 300 years growing, 300 years maturing and then 300 years declining which means they have a rough lifespan of 1000 years! They can produce up to 2000 acorns a year, although only one in 10,000 will actually develop into a tree.
Where to see: Oak trees are widespread across Norfolk and Suffolk and can often be found making up hedgerows they also grow as huge independent trees in their own right. For a certain spot check out the grounds of National Trust properties Felbrigg Hall and Blickling Hall.
Grizzled Skipper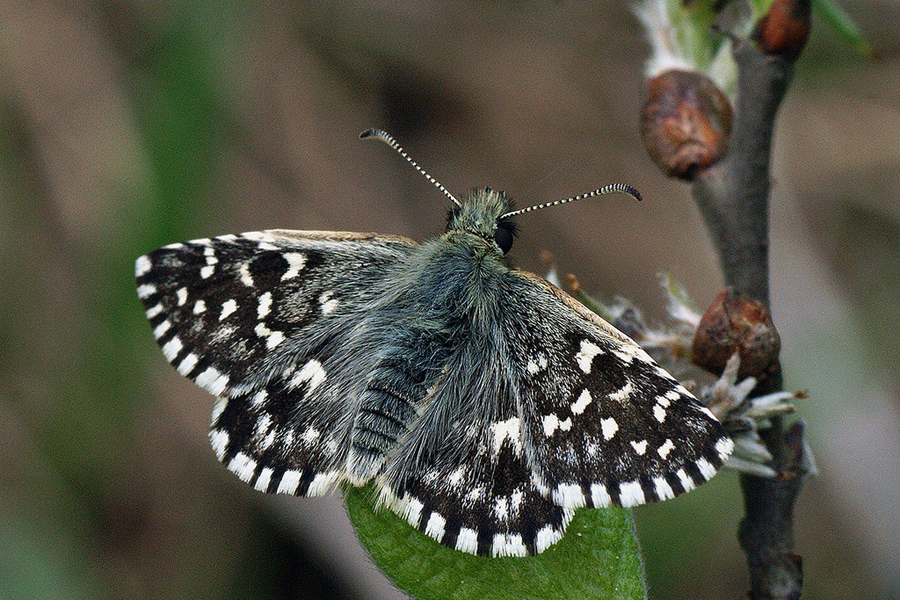 The grizzled skipper is a small moth-like butterfly which is in serious decline and is listed as a UK Biodiversity Action Plan species. It is distinctive for its striking black and white appearance with a unique chequerboard pattern on its wings. They're one of the earliest skippers to appear in Spring and when flying they dart around very quickly and close to ground, making them a challenge to follow if you're feeling energetic! Their favourite food plant is Bird's-foot-trefoil so look out for its orchid-like yellow flowers or even better plant some and the butterflies might well come to you!
Where to see: The grizzled skipper is a rather rare butterfly in Norfolk and Suffolk so it will be a real treat if you see one, a good idea would be head out of the Broads to the Breckland area and look for chalk downland and other sparsely vegetated habitats.
English Bluebell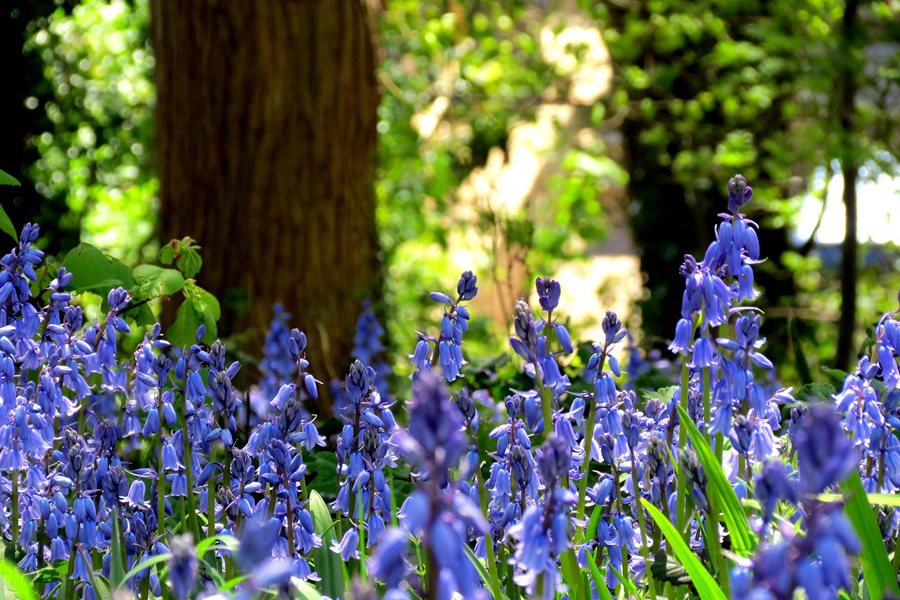 This native English bluebell has a deep rich scent and hangs from an arching stem. They can be found in vast quantities in wooded areas. They are a quintessential sign of a great British spring time and bring a wonderful flash of colour to the otherwise shadowy woodlands they inhabit.
Where to see: Visit Fairhaven Water Gardens in South Walsham for their famous bluebell walks to a neighbouring nature reserve where these native flowers flourish in abundance. Alternatively pay a visit to Buckenham Woods, NWT Foxley Wood or Sheringham Park for more guaranteed bluebell sightings.
Kingfisher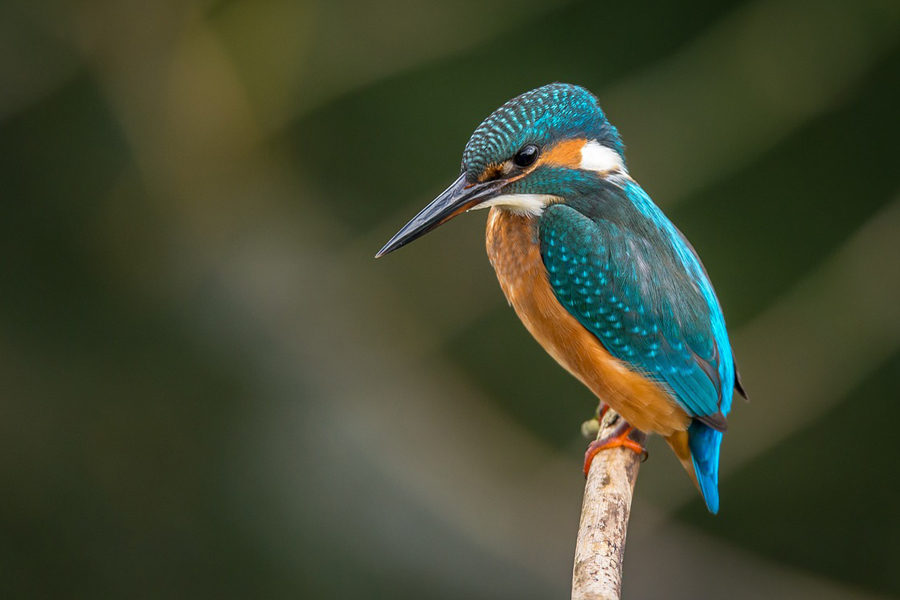 A list of the top species found amongst the Broads Rivers wouldn't be complete without mentioning the flash of iridescent blue and orange you're treated to as a kingfisher darts in front of you as it searches for its next meal. This small, exotic looking bird is definitely one of the nation's favourite birds, but again is much less common than in years gone by. They are easier to spot in spring before the dense riverside foliage of summer returns.
Where to find: Kingfishers like nesting in steep banks and are a territorial species who will hunt a particular stretch of river by perching on overhanging branches, so look out for these characteristics on your next riverside walk and you might get lucky!

See our guide on how to spot them here.
Blackcaps and chiffchaffs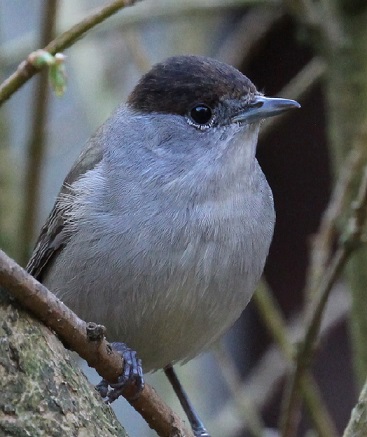 April finds birds pairing up with mates and nesting. Among the many to spot are nightingales and visitors from Europe, the chiffchaffs and blackcaps. The blackcap is a greyish warbler, the male has a black cap, and the female a chestnut one. Its lovely song gave rise to the nickname of the 'northern nightingale'. Chiffchaffs say their name: 'chiffchaff chiffchaff chiffchaff' and are much harder to spot because they never stay still. The are small birds, about the size of a blue tit, slightly dumpy, greenish /brown with paler underparts and they flick their tails.

See this video of chiffchaff calling at Church Farm, Suffolk Wildlife Trust.
Buzzard or Marsh Harrier?
Both birds have been spotted recently out in the National Park but they can be quite difficult to tell apart. Buzzards have a more crooked wings, which appears more bent than the marsh harrier and they have a shorter, broader tail. Marsh harriers have an extended V pattern shape on their wings and they appear straighter than the buzzard. Whilst buzzards soar and glide in flight, the marsh harrier will flap, flap and glide with its head down.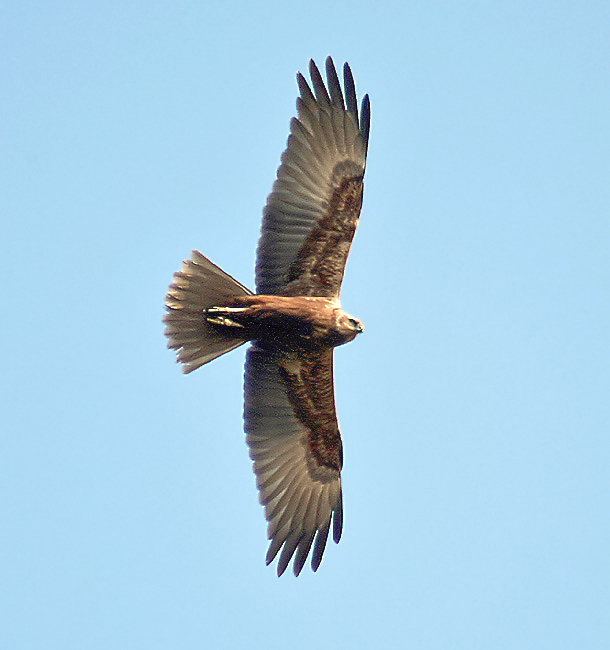 Marsh Harriers are larger than other harriers with a heavier build. The females and immatures are a uniform chocolate brown with a pale crown, paler heads and necks. The males have a streaked pale brownish head, neck and chest and a greyish tail. Their call is a high-pitched que-ah.

In Britain they are confined to the eastern counties, the northwest and southwest of the country and mostly overwinter in Africa. They usually build a large nest of reeds and sticks at ground level in the middle of a reed bed in March to May. The female will lay as many as 8 eggs in a single clutch but only 2 0r 3 will survive. The eggs are incubated for about 5 weeks and the chicks fledge after another 6 weeks or so.
Buzzard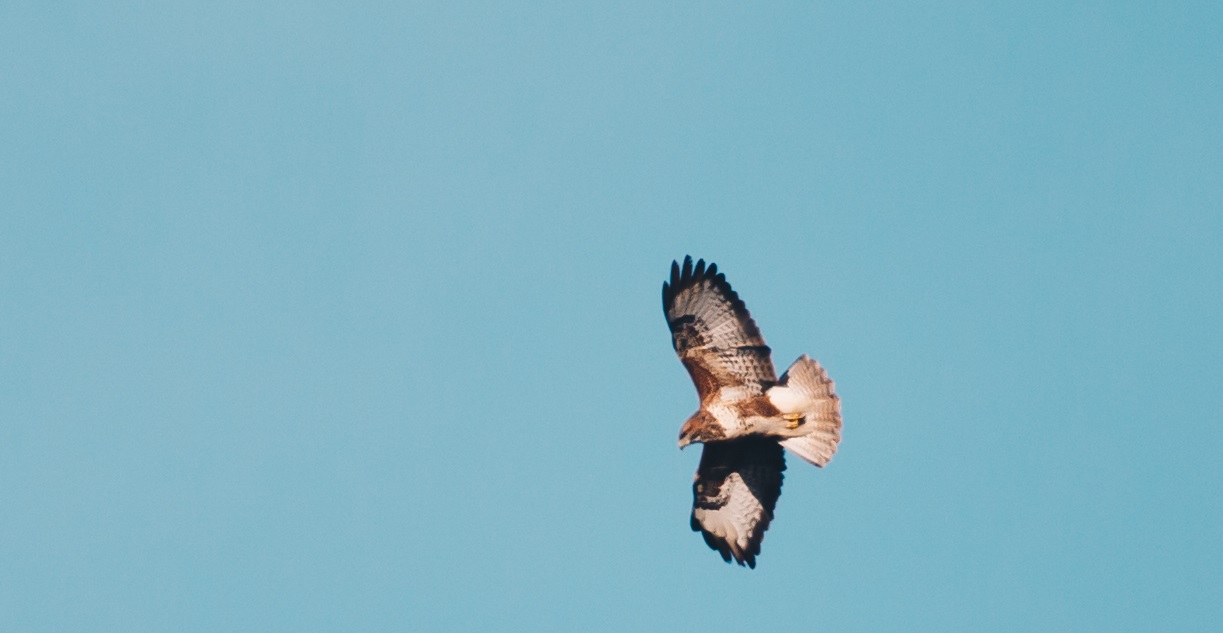 The common buzzard is the most common of Britain's larger birds of prey and it is found in most habitats, particularly woodland, arable, pasture, marsh and scrub. Their nests are a substantial structure built of twigs and branches, and lined with vegetation, which can be 100cm wide and 60cm deep. It eats small mammals, birds, carrion and even earthworms if food is in short supply. Its distinctive mewing call, like a cat, is usually made in flight.
More info and how to identify them at the Norfolk Wildlife Trust website: Marsh Harrier and Common buzzard.
They can both be spotted in the Fens, the Broads, and along the Norfolk coast. NWT Hickling Broad NNR, RSPB Strumpshaw Fen